11th September, Frankfurt Germany.
via: sansnom Translated by Act for freedom now!
"The International Motor Show (IAA) was held in Munich last week. At this summer show, all manner of multinationals were once again able to show off their gleaming, beautiful cars and congratulate themselves on their economic success in their air-conditioned conference rooms, limousines and exhibition halls.
At the same time, this summer has once again been full of fires. In Rhodes. In Portugal. In Maui (island of Hawaii). At the same time, many people's homes were flooded. In Slovenia and Austria.
Many people's lives were shattered. These deadly catastrophes have many causes, and the IAA is just one of them. We say Switch off the system of destruction!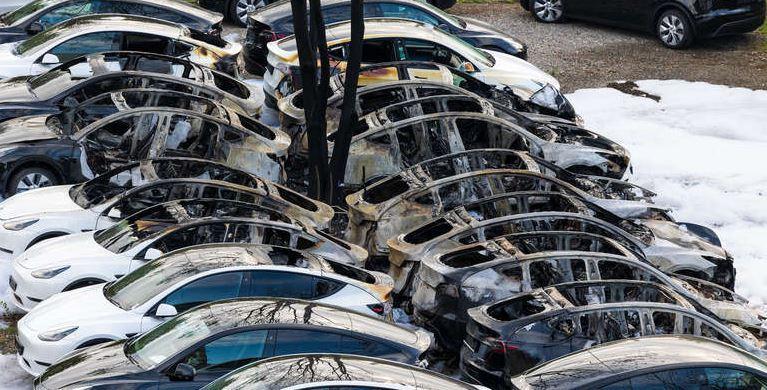 So we torched a few new Tesla cars this evening in Frankfurt. In salute to the Munich protests. One of many attacks on the destructive automotive industry.
Tesla is one of our greatest enemies. This company represents better than any other the ideology of green capitalism and the pursuit of global and colonial destruction. Electric motors are constantly presented as the clean alternative. This is a cynical lie. Like other companies, Tesla exploits resources all over the world. The raw materials needed for electric car batteries, such as lithium and cobalt, are mined in Latin America or Africa under miserable conditions. Despite the pretty green paint job, fossil fuels are used to transport and extract them.
All this is linked to the oppression of indigenous communities, whose resistance must spur us to action.
Tesla accepts all this in order to produce cars that can slither through city centers. Which will show day after day that there is wealth to be had. But not for everyone. According to Tesla's logic, only a few are entitled to own such cars. It's a question of class that determines who drives or has the right to drive these cars.
This time, in a show of resistance, we attacked a parking lot housing Teslas for sale. Often, and just about everywhere, it's Teslas belonging to private individuals that are hit, when it's not the construction of its factories that are sabotaged, as in Berlin-Grünheide. All these acts are important to damage this group. Not only economically, but above all politically. To show that we don't agree with the green lies, the plundering of raw materials or the cities and roads that belong only to the rich. In our opinion, these poisoners must pay a high price!
Tesla is part of a conglomerate of groups owned by Elon Musk. His patriarchal fantasies are apparently inexhaustible. He is one of those people who want to dominate the Internet, space, new technologies and artificial intelligence, and seems to know no limits to his fantasies of domination.
SpaceX, for example, is a company that wants to create more resources, rockets and spaceships to make space a vacation destination for the rich and advance the idea of one day inhabiting Mars. The appropriation and subjugation of territories for capitalism continues, all the way to Mars. A dystopia that speaks volumes.
As for the neurotechnology company Neuralink, its aim is to link the human brain to machines. They are experimenting on animals to see how thought flows can be read. In the long term, this is claimed to be used for curing diseases.
But like SpaceX and Tesla, Neuralink also aspires to a longer-term perspective, in which individuals have a different value. In which some people have a right to a better life in the midst of the ecological catastrophe that is already upon us. Incorporating certain thoughts and ideas into the development of AI can only give rise to a deeply racist technology.
Some may claim that their electric cars are not responsible for the destruction of the world's ecosystems, exploitation and displacement of populations. Some grant themselves the right to be blind to their privilege of colonial and ecological destruction. We must destroy these patriarchal and colonialist conceptions of the future. They are the enemy of a world and a way of life that are ecological and based on solidarity.
Greetings to all those on the run and in prison!
Switch Off – the system of destruction!"