2nd August, France
received anonymously via email.
ENG:
"Animals are people", "fish are sentient" or "meat = murder" are ideas with which we wanted to mark the minds. We denounced the exploitation of animals in all its forms in front of shops and on squares where the message would be visible.
We are talking about the thousands of billions of sentient beings slaughtered and exploited annually by humans in laboratories, slaughterhouses, farms, fishing nets, beehives, etc… Nobody speaks about them, condemned to a regime of general indifference and contempt.
We were arrested by an unexpected police patrol and taken to the station. Our determination is as strong as ever. The state wants to silence us, let's show them that it won't be easy.
Why aren't more of us doing this kind of action ? The antispeciesist struggle must disturb, be more offensive and not be afraid. Let's go together, let's take the maximum of precautions and if we find ourselves facing repression let's be in solidarity ! And above all, let's not forget who we are fighting for.
Animal Liberation. "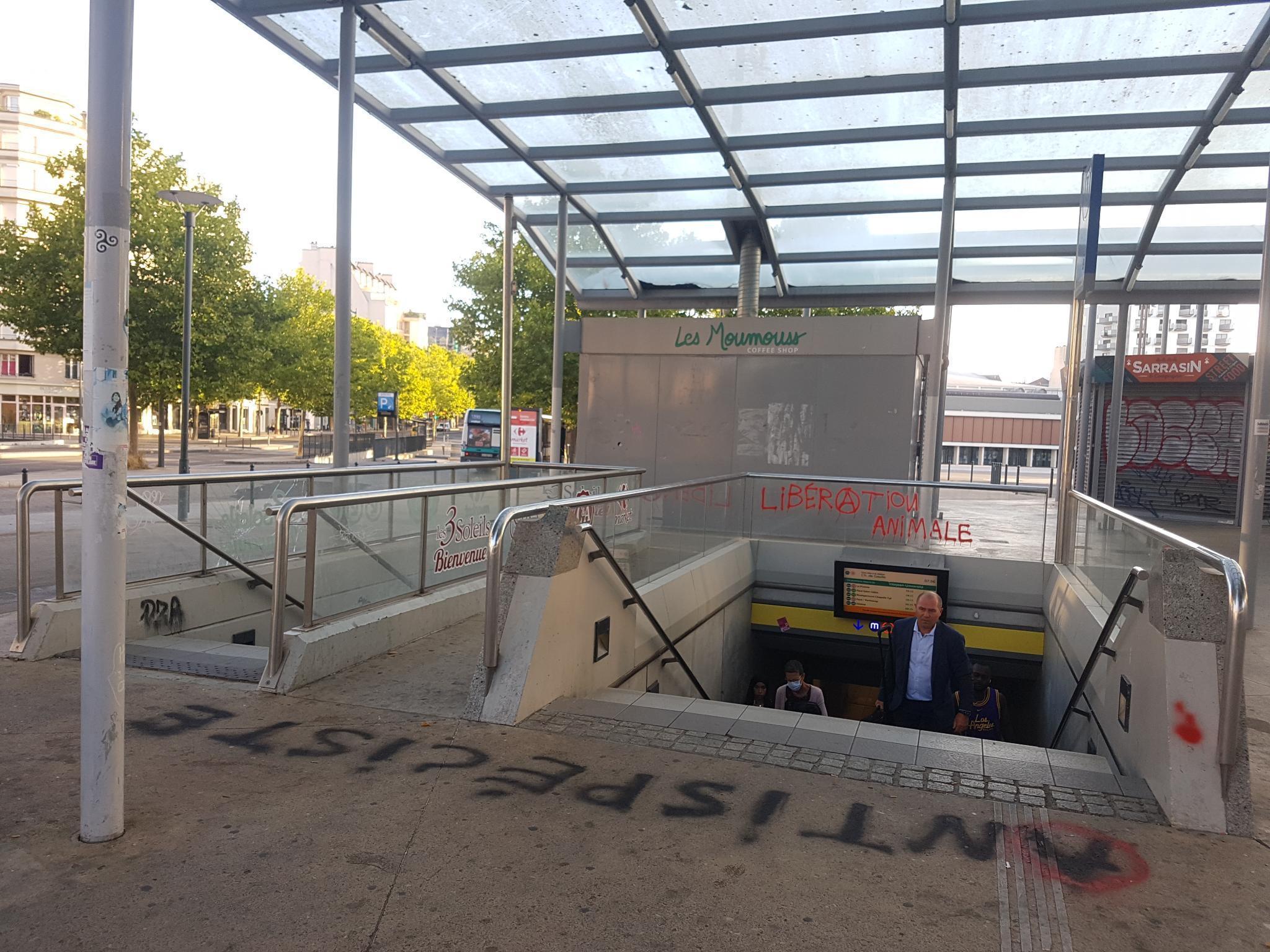 FR:
"« Les animaux sont des personnes », « les poissons sont sensibles » ou encore « viande = meurtre » sont des idées avec lesquelles on a voulu marquer les esprits. Nous avons dénoncé l'exploitation des animaux sous toutes ses formes devant les commerces et sur des places où le message sera visible.
Nous parlons des milliers de milliards d'êtres sensibles massacré·e·s et exploité·e·s annuellement par les humain·e·s dans les laboratoires, les abattoirs, les élevages, les filets de pêche, les ruches, etc… Personne ne parle d'elleux, condamné·e·s au régime de l'indifférence générale et du mépris.
Nous avons été arrêté·e·s par une patrouille de police inattendue et emmené·e·s au poste. Notre détermination est toujours aussi grande. L'État veut nous faire taire, montrons-lui que ça ne sera pas facile.
Pourquoi ne sommes-nous pas plus à faire ce type d'actions ? La lutte antispéciste doit déranger, être plus offensive et ne pas avoir peur. Allons-y ensemble, prenons le maximum de précautions et si nous nous retrouvons face à la répression soyons solidaires ! Et surtout, n'oublions pas pour qui nous nous battons.
Libération Animale"